2018 SUMMER CONCERT SERIES at the BLACKMON AMPHITHEATRE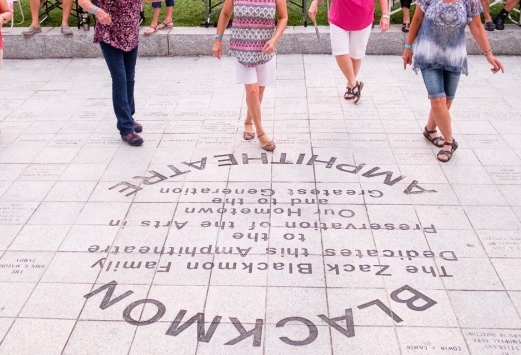 The Blackmon Amphitheatre is hosting another great line up of live music and entertainment throughout the summer. On Beach Music nights, Shelton Vineyards provides great Yakin Valley wine and the Dairy Center has hot dogs. People are encouraged to bring a chair or blanket to spread out on the grass with friends and family. Be sure to bring your best shoes for dancing!
Our 2018 Summer Series includes 46 concerts starting in April and finishing with three big shows during Mayberry Days in September. Many of the concerts feature 2017 CBMA Award Winners, including Jim Quick (Entertainer of the Year) and Band of Oz (Group of the Year) and Nominees, including Tim Clark (The Tim Clark Band), Craig Woolard (The Embers featuring Craig Woolard), and Gary Lowder (Gary Lowder and Smokin' Hot). All six bands nominated for Group Album of the Year performed this past summer, as did seven of nominees for Female and Male Vocalist of the Year.
Tickets for individual shows in 2018 will be available online later in the year. Tickets may be purchased at the gate starting one hour before any show. Tickets are $15 (*includes tax) and may be paid by cash, check or credit card. All shows begin at 7:30 p.m. unless otherwise noted. Children under 12 are admitted free at Blackmon Amphitheatre events when accompanied by guardians with tickets or Annual Pass.
The 2018 Annual Pass is available online, by phone at 336.786.7998 or in person at the SAC office in the Andy Griffith Playhouse. The cost is only $120 (plus tax) and is good for all summer series concerts at the Blackmon Amphitheatre as well as other select SAC presentation throughout the year.
How much fun did everyone have at last year's Summer Concert Series? Check out our 2017 Photo Gallery.